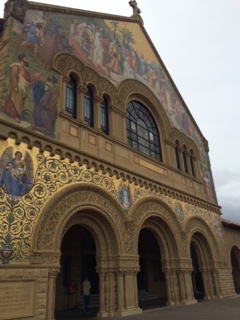 Do you love to sing?
The Stanford Community Chorus is an exciting new ensemble offered through Stanford Continuing Studies. We explore many different types of music and singing, including folk, spirituals, popular songs, and traditional choral pieces. The chorus is open to the entire Bay Area community, including Stanford students, faculty and staff, and all our neighbors. The group is an opportunity to participate in communal singing in a fun and supportive environment.
The rehearsal process consists of warmups, vocal exercises, learning by ear, experimenting with various vocal techniques, and singing in parts. We work on phrasing, dynamics, diction, and creating a blended choral sound. We also learn about music terminology, and discuss the historical context and background of the pieces we sing and their composers.
With a focus on group singing, participants expand their musical repertoire and become more confident singers and musicians. Each 10-week session culminates in an informal performance for friends and family.
No audition is required to join. Experienced music readers and nonreaders alike are welcome and encouraged to participate. Community members may register for the chorus through
Continuing Studies
, and Stanford students can join by signing up for
MUSIC 158
.
The chorus is directed by Kelly Savage, who is on the faculty at the San Francisco Conservatory of Music.